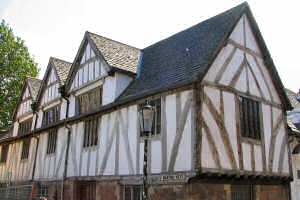 I recently gave a talk at Dobbies Garden Centre at Mancetter, near Atherstone. I have been there to give talks a couple of times before.
This time it was "Leicestershire Legends and Traditions".
I talked about the little known St. Morrell at Hallaton; the story of Richard III and the old woman on Bow Bridge in Leicester; the water turning to blood at Garendon Pool; and the terrifying Black Annis.
Not to mention the Bottle Kicking and Hare Pie Scramble at Hallaton; the Whipping Toms in the Newarke; the giant Bel who lived at Mountsorrel; and the Mock Hare Hunt in Leicester.
During the Winter months Dobbies have a special deal including a talk, coffee and biscuits and lunch for a very reasonable price.
Posted by colin on Tuesday 23rd April, 2013 at 5:13pm