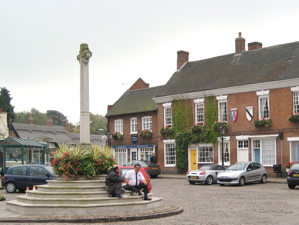 I led a private Guided Walk recently around the delightful little town of Market Bosworth.
The ladies group of the Lutterworth branch of the National Farmers Union had asked me to do this, after previously experiencing other walks with me, and presumably enjoying them!
I actually lead two walks from the Market Place of this lovely little town, "Market Bosworth", staying close to the town centre, and "Market Bosworth Lanes", which ventures out into the countryside. It was the town walk which the ladies chose.
Market Bosworth is best known for the crucial Battle of Bosworth, one of the most important battles in English history, fought just outside the town in 1485. It was at this battle that the betrayed Richard III lost his life and the Tudor dynasty came to power.
But there is much more to Market Bosworth than the battle. Dr. Johnson once taught at the Dixie Grammar School, and the town is justly proud of its floral decoration, which wins prizes every year.
I am very happy to lead walks around Market Bosworth for any other groups. Do feel free to get in touch.
Posted by colin on Wednesday 21st July, 2010 at 9:25am