Market Place (Market Bosworth)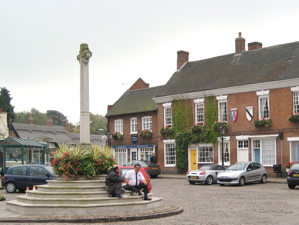 The triangular Market Place in Market Bosworth occupies the place that one would expect, right in the centre of this picturesque little town.
It is still used for the original purpose when it was constructed in the Middle Ages, the weekly market.
Beside the Market Place is the Dixie Grammar School, founded by the Dixie family, landowners here for centuries. The great Dr. Samuel Johnson was briefly, as a young man, a teacher here in the 18th century. He seems to have not enjoyed the experience, as he wrote later that he was not well suited to the position.
The street plaques around the town, and especially close to the Market Place, are embellished with symbols. Some have the white boar, which was the emblem of Richard III, while others have the red dragon, the emblem of Henry Tudor.
This is in recognition of the Battle of Bosworth, fought outside the town in 1485 and one of the defining battles of English history, when the Tudor dynasty took power.