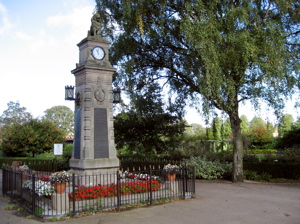 I gave an unusual talk recently on "Historic Syston and District".
The talk was for the Parkinson`s Disease Society, and took place at the Council Offices in Syston in Leicestershire.
Members of the group came from Syston itself, and from nearby villages, such as Queniborough, Barkby, Thurmaston and Birstalll.
I ranged over a quite wide stretch of history, taking about such matters as place names, explaining the significance of the suffix "by" in so many local village names; the importance of the Fosse Way in communications over the centuries, and also of the ridgeway extending above the River Wreake; and the district`s role in the Civil War.
I explained why the Normans changed the name of the pretty village called Meregrave to what they found the far more acceptable Belgrave; the story of the drummer boy murdered at Thurmaston; and why there are so few settlements along the Fosse Way.
Everybody found it quite fascinating, and were most appreciative.
I am very happy to give talks for groups. If you would like me to visit one of your meetings, feel free to get in touch.
Posted by colin on Sunday 1st February, 2009 at 11:14am