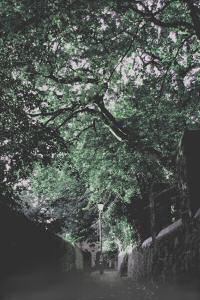 The Haunted Walks, or you might well prefer to call them Ghost Walks, that I lead largely but not entirely in Leicester have become more and more popular this year.
Always sure of good attendances, they created a surge of interest recently, so much so that on several occasions I have had to call a halt and not take any more people.
So one of the messages is simply to try and book as early as possible for forthcoming walks. You can find details on this website www.crosbyheritage.co.uk Click on Upcoming Events.
The walks that fall into this category include "Haunted Leicester", "The Haunted City", "Walk in Dread", "The Shades of Night", "Ghosts and Graveyards" and "A Midsummer Nights Haunt" in Leicester; "Haunted Belgrave" in Belgrave; and "Haunted London", "The Haunted Capital", "Haunted Theatreland" and "Haunted Westminster" in London. There is also a walk on Hallowe`en each year, at varying venues.
The other point is that if you represent a club or some sort of organisation (a workplace, even) you might like to consider asking me to lead you on your own private Ghost Walk.
Feel free to get in touch.
Posted by colin on Sunday 15th November, 2009 at 9:38am