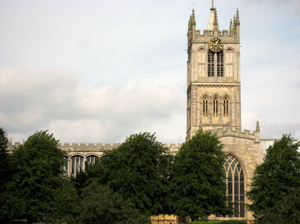 I recently took a party who were visiting Leicester on a Coach Trip around the lovely county of Leicestershire. The group were here on a holiday organised by Cultural Breaks.
I had, a couple of days earlier, shown the group around the historic Old Town of Leicester.
Picking up the party at the Marriott Hotel, I took them on a pretty route that went through Market Harborough and High Leicestershire, stopping for coffee at the highly picturesque and fascinating village of Hallaton.
From there I took them into Rutland, England`s smallest county, and through its little county town, Oakham, before arriving at Melton Mowbray.
At the Sysonby Knoll Hotel, we had a specially arranged buffet lunch, and then it was back into Melton Mowbray, where they were shown some of the mysteries of hand raised pork pie making at Ye Olde Pork Pie Shoppe, run by Dickinson and Morris.
Then, after time to explore this fine old market town, it was back to Leicester.
I am sure that the group returned with renewed appreciation of Leicester and the surrounding countryside.
If you would like me to arrange a similar trip for your own group, do feel free to get in touch.
Posted by colin on Tuesday 10th April, 2012 at 9:17am