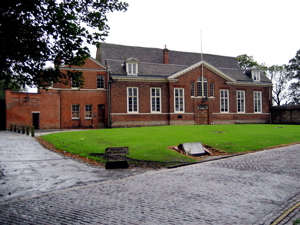 As usual, I partook of the big Good Friday event in Leicester City Centre.
Entitled "Christ in the Centre", it is an interactive re-enactment of the last days of Jesus, and has been taking place in Leicester for several years now.
This year, it started in Castle Yard, outside the Great Hall of Leicester Castle, with a re-enactment of a visit to Leicester by the charismatic preacher John Wesley.
This was especially relevant to me, as my next Guided Walk in London, on Saturday 5th April, is "John Wesleys London", looking at places in the capital which are particularly associated with him.
From Castle Yard, a mass of people moved off to Town Hall Square, where much of the action took place.
Then it was round to Humberstone Gate, where the Crucifixion and Resurrection were re-enacted, followed by an address by the Bishop of Leicester.
Many thousands of people witnessed the event.
Posted by colin on Sunday 30th March, 2008 at 10:40am