Great Hall (Leicester)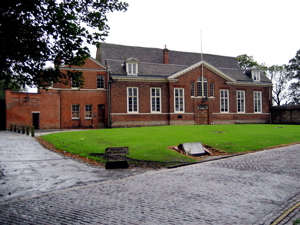 The Great Hall of Leicester Castle is an important mediaeval timber-framed building in the heart of Leicester's historic Old Town.
It can be found in Castle View, leading off Castle Street, which itself leads off St. Nicholas Circle, just off the city's inner ring road, and close to the Holiday Inn.
Leicester Castle was a motte and bailey castle. Most of the day to day work and living took place in the Bailey, while the Motte was a hill on top of which was the Keep, to which one would retreat in times of attack.
The Great Hall, sitting sedately behind an attractive green, appears to be a Georgian building. In fact it is a Georgian facade, behind which is a 12th centre timber-framed hall.
Leicester Castle was built just after the Norman Conquest, although legend says that Ethelfleda, Lady of the Mercians, had constructed an earlier one around 900AD.
The castle, however, together with most of the town, was destroyed in 1173 after Robert Blanchmains, Earl of Leicester, had lent his support to a rebellion against Henry II by his sons, including Richard the Lionheart. The king won, and punished Leicester severely.
A new castle was built shortly after, and what remains today dates from the 12th century rebuilding. In addition to the Great Hall, there is a cellar, inevitably named John of Gaunt's Cellar, which was probably used for storing wine, and the Motte.
Parliament was held twice here in the 15th century, including the one known as "the Parliament of Bats".
The Great Hall was until recent years used as courts of law.
It is only open to the public on special occasions.
Where is Great Hall?
View a map showing the location of Great Hall.
Press the 'Back' button on your web browser to return here.