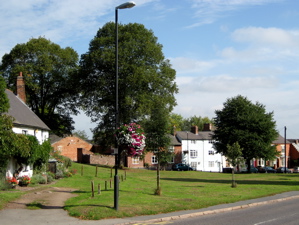 The latest morning Coach Trip was the "Charnwood Forest Tour".
As always with these morning tours, we set out from St. Margarets Bus Station in Leicester, and were soon meandering around the lovely Leicestershire countryside.
Charnwood Forest, between Leicester and Loughborough, is Leicestershire`s miniature mountain range. The volcanic granite, among the oldest rocks in the world, outcrops quite spectacularly in places.
Unfortunately, and unusually for my trips, it was a rather wet day, but although the views were not as brilliant as they might have been, they were still very impressive.
We always make a stop half way round, where tea, coffee, cakes etc can be bought, but in a place which is nice in its own right. This time it was the very popular Stonehurst Farm at Mountsorrel.
My Visitors` Book attracted such comments as "I thought I knew the Charnwood district but this proved to be wrong!", "lovely morning trip, very pleasant coffee stop", "very pleasant trip through lush green and beautiful Leicestershire countryside" and "very enjoyable tour despite the weather".
Posted by colin on Tuesday 28th September, 2010 at 1:36pm