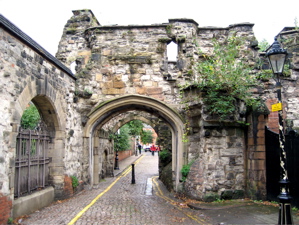 The 41 Club had a haunting experience in Leicester recently, when I took them on their own version of the "Haunted Leicester" Guided Walk.
The club is connected to the Round Table, and continues its aims of collecting money for charity.
I took club members through the lonely streets of Leicester's half-forgotten Old Town, where many ghosts are said to lurk, stopping at atmospheric locations such as St. Mary de Castro Church, John of Gaunts Cottage and the Turret Gateway.
Afterwards, I joined them for supper at the Globe Inn.
Everybody enjoyed the proceedings, including your humble scribe!
Posted by colin on Thursday 28th December, 2006 at 8:27am