Narborough Station (Narborough)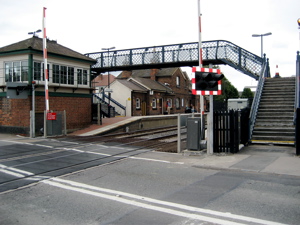 Narborough Station is a railway station in Leicestershire that came back from the dead.
When the station was closed in the 1960s under the Marples Axe, the villagers of Narborough were furious. They made their feelings felt so effectively that they won a reopening for their station, and it has remained open ever since. Many towns and villages across the country would have benefited from such determination.
There is a level crossing beside the station, across the road which links Narborough with its sister village of Littlethorpe.
Trains run from Narborough Station to such places as Birmingham; Cambridge; Ely; Hinckley; Leicester; Melton Mowbray; Oakham; Peterborough; Stamford; and Stansted Airport.
Narborough Station (the Car Park) is used as the starting point for Colin Crosby's Guided Walks in Narborough.
Narborough Station (Narborough) is the starting point for...