St. Marys Church (Hinckley)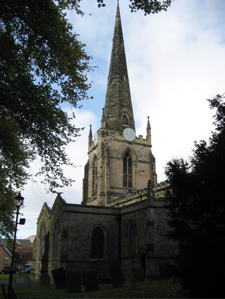 St. Marys Church is the parish church of the Leicestershire market town of Hinckley. Its full name is the Assumption of St. Mary.
It is a large church, with an imposing tower dating from the early 14th century. This is topped by a tall spire which was rebuilt in 1788.
There was considerable restoration in the 19th century, by Ewan Christian and others.
The church has 14th century arcades, and the rood loft stair still retains its entry and exit doors.
St. Marys churchyard is the burial place of Richard Smith. His gravestone is said to bleed each year on the anniversary of his murder by a recruiting sergeant.