All Saints (A Guided Walk in Leicester)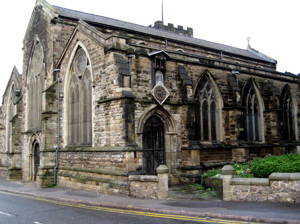 "All Saints" is a Guided Walk in Leicester, devised and led by Colin Crosby, of Colin Crosby Heritage Tours, the well known Blue Badge Guide.
These walks are an enjoyable way of learning some Local History.
The starting point is outside Vaughan College, in St. Nicholas Circle, opposite the Holiday Inn.
The area covered by the walk was formerly an important part of Leicester's historic Old Town. It has, however, become something of a forgotten backwater in recent years, although there is now a good deal of housing being built beside the canal.
Included is the site of one of the churches largely destroyed during the Sack of Leicester in 1173, when Henry II punished the town for its part in the rebellion led by his wife and sons, including Richard the Lion Heart. The church later became the home of the Black Friars.
Also on the route is the former Leicester Central Station, on the old and much lamented Great Central Railway, built in the 1890s and dismantled under the Marples Axe in the 1960s.
But the high spot of the walk is All Saints Church. This is the only one of the surviving mediaeval churches in the Old Town to be no longer open for worship. However, this walk gives a rare opportunity to see inside the church, as Colin includes a visit.
All Saints stands on High Cross Street, which in the Middle Ages was Leicester High Street, and just inside the site of the town's North Gate.
Colin leads a number of other historic walks in Leicester's Old Town, including "Historic Leicester", "Norman Leicester", "Mediaeval Leicester" and "Richard III".
Dates, costs and where to meet
A place on 'All Saints' costs £5.00 per person, or £4.00 if paying in advance. The guided walk begins at Vaughan College, and is running on:
I'm sorry, but there are no plans to run this event at present.
If you would like to book a place on one of these dates, please telephone Colin on (0116) 2611576 or email him at colin@crosbyheritage.co.uk.