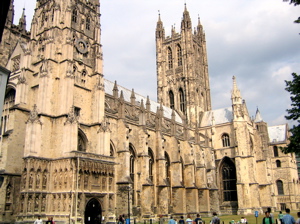 I had a spell working in the lovely and historic cathedral city of Canterbury at the end of the 1980s.
I was already living in Kent, in the Ramsgate suburb of Pegwell in fact, and had been working as General Manager of the Classic and Kings Cinemas there.
But I felt that I wanted a change, and when the chance came to manage the famous Marlowe Theatre at Canterbury, I felt it was too interesting an opportunity to miss.
I ran the non-artistic side of things - in other words, the non-acting side. There was an Artistic Director who was in charge of performance.
The Marlowe was named after one of Canterbury's most famous sons - the dramatist Christopher Marlowe, writer of such plays as "Tamburlaine", "Edward II" and Dr. Faustus".
The theatre was situated in St. Margaret's Street, almost opposite the former St. Margaret's Church, which now houses The Canterbury Tales tourist attraction. Just down the street was the magnificent Canterbury Cathedral.
Today, there is a shopping complex on the site of the theatre, and the Marlowe is housed in what was originally the Odeon Cinema.
I didn't stay very long at Canterbury, but the experience was a fascinating one. Essentially, it was a repertory theatre with its own company. Members of the company who have gone on to become fairly familiar faces on TV include Roger Martin and Peter Aubrey.
Local operatics were, as always, popular, as was panto.
We also had visiting companies - for example, Ronald Lacey brought a play about Dylan Thomas, and Peter Arne performed at the Marlowe shortly before his shocking murder.
From time to time there were musical concerts - John Hanson and the Yetties spring to mind.
There was also a concert by Fiddler's Dram, a local group who reached the pinnacle of success in my time there, by having a Number One hit record with "Day Trip to Bangor".
While I was there, a new Archbishop of Canterbury, Dr. Robert Runcie, was enthroned. He had previously been at St. Albans. Canterbury is always busy with tourists, but on this day it was even more heaving than usual - you couldn't move for Bishops. And when I went to my usual teashop, the tables were full of clergymen, telling ecclesiastical jokes.
I enjoyed my time at Canterbury, but called a halt when I learned that a manager was being sought by the Halstead Empire Theatre, in my home county of Essex, and I moved to there.
If anybody reading this has any connection with Canterbury (Born? Lived? Worked? Ancestors? Relatives?), I will be very pleased to hear from them.
Posted by colin on Wednesday 9th May, 2007 at 4:46pm