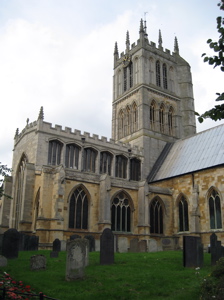 I led a Guided Walk recently in Melton Mowbray.
The Womens Institute at the village of Stathern had asked me to do this for them.
I showed the group the spectacular St Marys Church, Anne of Cleves House and the Maison Dieu, among other appealing buildings.
And I took them through the Market Place, and discussed the various market crosses.
I discussed the relationship between two famous foods from the town. Hand raised Melton Mowbray pork pies and Stilton cheese are both geographically protected foods, and may only be made in Melton Mowbray and surrounding villages.
Melton Mowbray is rather a special town. I am of course delighted to lead a walk there for other groups. Feel free to ask.
Posted by colin on Wednesday 16th October, 2013 at 4:31pm