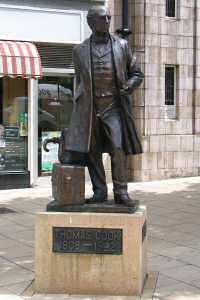 I gave a talk recently on "The Life and Times of Thomas Cook".
This was for the Friends of Kettering Museum, and took place at the Kettering Art Gallery, at Kettering in Northamptonshire.
Thomas Cook, whose company is now world-famous, has a very important place in travel history. It was he who organised the first public excursion, in 1841, from Leicester to Loughborough, which ushered in the age of modern mass tourism.
Thomas was born at Melbourne in Derbyshire, but was living at Market Harborough when he was asked by his fellow committee members in the Temperance movement to promote a tea party that had already been organised at Loughborough. He hit on the idea of hiring a train - the railways being in their infancy - while walking from Market Harborough to Leicester.
He is buried in Welford Road Cemetery in Leicester, and I show his grave to those on my Guided Walks there.
I will be delighted to give this talk for your own group. Feel free to get in touch.
Posted by colin on Monday 12th March, 2012 at 10:10am