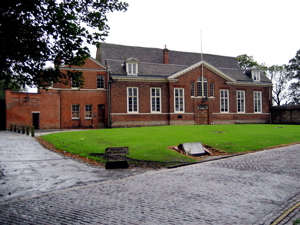 I gave a debut recently to my new talk "The Illustrious Earls of Leicester".
The talk was delivered to the Community History Network, at the Reference Library in Bishop Street, Leicester.
It is a brief history of the Earls, dating back to the 11th century and extending with just a few breaks to the present day.
There have been a number of famous people who have held the title. Most of the audience were surprised at how many Earls they had heard of for one reason or another.
The Beaumont Earls in the Norman period were responsible for much of Leicester`s early development, establishing Leicester Castle, St. Mary de Castro Church, Leicester Abbey and West Bridge.
Simon de Montfort led the Barons` Revolt against Henry II, being effectively King for a few months before being defeated and killed at Evesham.
John of Gaunt was one of the magnates against whom the violent Peasants` Revolt was directed.
Robert Dudley was expected to marry Elizabeth I, and famously entertained her lavishly at Kenilworth Castle.
Thomas Coke was the agricultural pioneer known as "Coke of Norfolk".
The seat of the Earls of Leicester today is Holkham Hall in Norfolk.
The Community History Network meets on the first Monday evening of every other month, and is open to anybody with an interest in local history. The next meeting, free to attend, is on Monday 4th August.
"The Illustrious Earls of Leicester" is available to be given as a talk to your group. I will be pleased to receive your enquiry.
Posted by colin on Tuesday 29th July, 2008 at 11:16pm