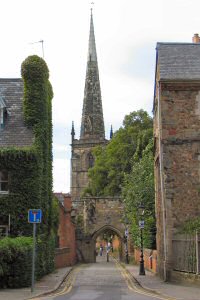 A group of cubs from Syston came on a private "Haunted Leicester" Guided Walk recently.
I had made arrangements with the cub leaders to organise this walk. Cubs, like everybody else, like a bit of ghostliness.
The boys heard lots of ghostly stories, around the oldest and spookiest parts of Leicester.
Among the stories was the tale of the terrifying Black Annis, whose ghost still haunts the ancient Turret Gateway.
Of all the private walks I lead for clubs and societies of one sort or another, "Haunted Leicester" has to be the most popular.
Posted by colin on Friday 15th December, 2006 at 9:14am