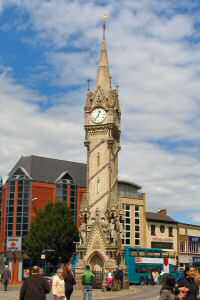 Saga Holidays run a series of holidays in Leicester, which in addition to being a large cathedral city is one of the oldest towns in Britain.
They stay in the Halls of Residence at Leicester University.
As part of the week, in addition to being taken on trips to various places of interest and beauty, they get a talk by me on how interesting the counties of Leicestershire and Rutland are.
I talk about Leicester's long history, dating back to the Roman period when the famous Jewry Wall was built, and including Charles I's siege of Leicester and Thomas Cook's invention of modern tourism.
I speak about famous local people, such as David and Richard Attenborough; Engelbert Humperdinck; Kasabian; Daniel Lambert; Gary Lineker; Joseph Merrick; Joe Orton; Showaddywaddy; C. P. Snow; and Sue Townsend.
I always take a delight in finding out where people have come from, and on the fourth week this year I was able to talk to visitors from Camberley; Oxford; Reading; Scarborough; and Welshpool.
Posted by colin on Thursday 15th November, 2007 at 9:32am