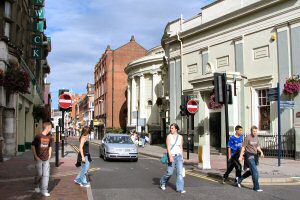 The highly - acclaimed exhibition "Sacred" is to visit Leicester in the New Year.
"Sacred" is the most successful exhibition to have been staged at the British Library, near St. Pancras Station in London, where it had a five month run in 2007.
It brought together for the first time some of the world`s most important and beautiful religious texts, from the Christian, Jewish and Moslem faiths, and was seen by 200,000 visitors.
"Sacred on Tour" has now been developed, and this will tour England, giving people around the country the chance to see these wonderful artefacts.
It will be housed at the Lending Library in Belvoir Street, Leicester, from 16th January to 6th February, when I fully intend to go and see it again. I was one of those 200,000.
The exhibition will also visit Sheffield, Bristol, Birmingham, Manchester, Keighley, Leeds, Liverpool and Sunderland.
Posted by colin on Wednesday 22nd October, 2008 at 7:34am