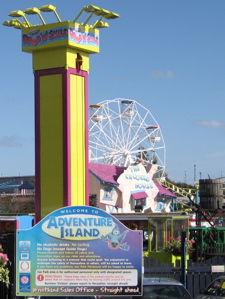 I went on another Whistle Stop Tour of Essex recently. This one, like the first, was organised by Carol Jolly of the Essex Tourism Association, and was designed to show group travel organisers some of the outstanding attractions that can be visited in the county.
We started as before at the Freeport outlet at Braintree, and I was mortified that everybody had to wait for me, even though I left home in Leicester at 3.30am.
My train to London was quite a bit late, late enough to ensure that I would not catch my connection at Liverpool Street Station, and then the train I did catch was delayed. So sorry again, everyone, but thanks for understanding and waiting for me.
However, the rest of the day was great. Our first stop was at Maldon, to look around the amazing Combined Military Museum, which is the collection of one man. I even managed to get in a tank and look out of the top, but I didn`t have a Daily Telegraph to get ironed.
From there we moved on to Tropical Wings at South Woodham Ferrers, where we were given a short presentation by the staff and some of the animals, before looking round the wonderful area that houses free flying butterflies.
Then it was time to go to Southend, my home town, for a visit to Adventure Island. My friend Chris Wales of the Coach Tourism Council joined us there for a while, and an even older friend, Mike Pressling, whom I have known since the 1970s, showed us around, Some of our party were brave enough to ride on the fearsome roller coaster, but I`m afraid I chickened out.
We had a nice lunch (fish and chips) at the nearby Three Shells restaurant, and then walked along the Seafront to the Sea Life Adventure, where again we were given a tour.
The next stop was Hyde Hall, the RHS - run hillside garden at Rettendon, where there is beauty all year round, and we had a coffee here.
The final stop was at one of the most historic of the many historic sites in Essex - the enormous mediaeval barns constructed by the Knights Templar at Cressing Temple. Before being shown around the barns and associated farm buildings, we sat down for coffee in their excellent tea room.
Then it was back to Braintree, and of course for me it was back to Leicester.
It was once again an excellent day, and the various venues deserve many thanks for their hospitality, while of course once again Carol is warmly thanked.
Posted by colin on Friday 27th November, 2009 at 9:10am