Liverpool Street Station (London)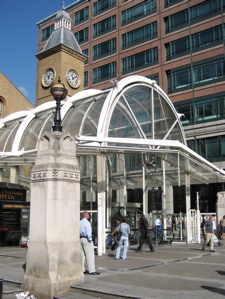 Liverpool Street Station is one of the busiest railway termini in London, serving Essex and East Anglia. It is situated in Bishopsgate.
Among the places served by Liverpool Street are Chelmsford, Colchester, Harwich, Ipswich, Norwich and Southend.
Built as the terminus for the Great Eastern Railway in 1874 and replacing the company's original Bishopsgate terminus, it took up land formerly the burial ground for the notorious Royal Bethlehem Hospital, better known as Bedlam.
The extraordinary interior of Liverpool Street was used for scenes in the 1970s film "The Elephant Man", starring John Hurt as Joseph Merrick, born in Leicester.
The character of Liverpool Street was changed in the 1980s, as part of the Broadgate Centre, which also swallowed up the site of Broad Street Station next door.
Beneath the station is an Underground station, with trains running on the Central Line, Circle Line, Hammersmith and City Line and Metropolitan Line.
There is also a small Bus Station.
Liverpool Street Station is the starting point for some of Blue Badge Guide Colin Crosby's Guided Walks. Those wishing to take part should meet outside the station in Bishopsgate, near the escalator.
Liverpool Street Station (London) is the starting point for...