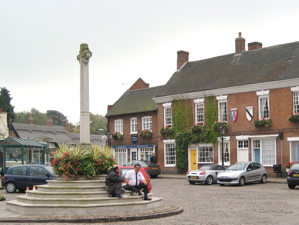 I led another of my morning Coach Trips recently. This time it was the "Richard III Tour".
These morning excursions are particularly popular with people who would rather not be out all day. We stay on the coach for almost the whole trip, but make a stop roughly half way round, where passengers can buy tea, coffee, cakes etc. It`s always in an interesting place.
This particular trip was around the area of Leicestershire between Leicester, being the area which the tragic and much maligned king Richard III would have seen in the last couple of days of his life. As always, the coach departed from St. Margarets Bus Station.
The popular, intelligent, athletic 32-year-old king spent his last night in a bed in Leicester, and was killed at the hugely important Battle of Bosworth, after which his body was brought back to Leicester and buried.
Our coffee stop was a particularly popular one, being at the Bosworth Battlefield Heritage Centre.
During the morning, we went through such interesting places as Market Bosworth, Polesworth and Atherstone.
My Vistors` Book drew comments such as "it was a very informative trip", "your speech is brilliant - your pronunciation a joy to listen to", "familiar countryside, but I have learnt a lot of facts / history of the area" and "thank you for taking me somewhere that I have been meaning to go to for years".
I also lead a Richard III Guided Walk in Leicester, the next time being on Wednesday 26th August.
Posted by colin on Monday 20th July, 2009 at 8:02am