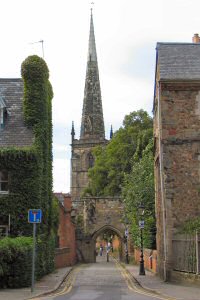 "Leicester`s Place in English History" was the title of a talk which I gave recently to members of the Leicestershire Wildlife Trust.
The venue was the Firebug Bar in Millstone Lane, the building which was once the Gas Offices.
I showed that throughout English history, over the last two thousand years, all the important events and periods had a connection with Leicester and the surrounding area.
For example, Leicester was an important Roman town on the Fosse Way; it was one of the Five Boroughs during the Danish occupation; Simon de Montfort, Earl of Leicester, was effectively King for a short period; Richard III spent his last night in a bed in Leicester, before being killed at Market Bosworth and buried at the Greyfriars; Lady Jane Grey, the nine day Queen, came from Bradgate Park; and Thomas Cook began mass tourism with his trip from Leicester to Loughborough.
That`s just a selection, of course.
I am very happy to give this talk for other groups. If you feel that your club or society would be interested, feel free to get in touch.
Posted by colin on Monday 5th January, 2009 at 9:04am