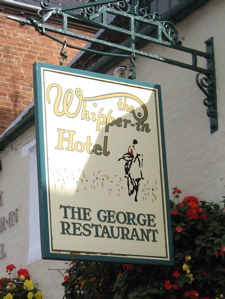 A little book that you may well find interesting is "Inn-Vestigated", subtitled "The Origins of Public House Names", by C. R. Townsend.
First published in 2005, the book is written by my friend Roy Townsend, who became intrigued by the diversity of pub names, and realised that, like all names, they all had a meaning.
To quote from the cover "Sometimes the origins of Public House and Inn names go back hundreds of years and many of the reasons are far from obvious today. This book explains how over time, history and human error have contributed to the many strange Public House names that we see throughout the country."
Roy started his research by looking at the names of pubs in Leicester and the surrounding area, where he and I both live.
But he soon realised that the resulting book would have far more appeal if he widened the scope to include inns all over the country.
So he set out with a camera to record some of the interesting names that he found.
The result is a book of considerable fascination, as he explains the origins of many names, both familiar and not so familiar.
Among the photographs that appear are signs from the Cross Keys at Uppingham; Angel Hotel at Market Harborough; Saracen's Head at Southwell; Royal Oak at Loughborough; King Richard III at Leicester; Red Lion at Earl Shilton; Crown at Newark; and Bear and Ragged Staff at Leamington.
This is a fascinating book, which will give a very good reason for visiting lots of interesting towns.
Posted by colin on Friday 30th March, 2007 at 8:54am