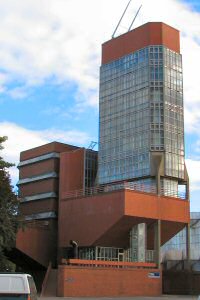 I had the pleasure recently of seeing my son Kevin graduating from Leicester University.
Sitting with Kevin`s girlfriend Laura in the famous concert hall the De Montfort Hall at Leicester, I was able to witness Kevin being awarded his Master of Laws degree. He also won an academic prize for his outstanding work during his studies.
This was the third time I had watched a graduation. My wife Anne and I saw our eldest son Neil graduating with a computer degree at Aberystwyth, and Anne and I went to Hallam University at Sheffield for Kevin`s Bachelor of Laws occasion. Anne was unable to attend his time due to work commitments.
During the ceremony, Martin Johnson, the England Rugby coach and former England captain, who spent many years playing for Leicester Tigers, was given an honorary degree.
Posted by colin on Thursday 4th February, 2010 at 10:49am