De Montfort Hall (Leicester)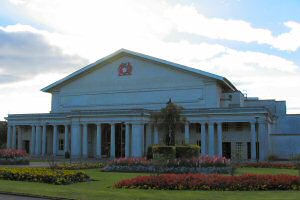 De Montfort Hall is a concert hall in Leicester with a national reputation.
It was built in the 1920s, the intention being for it to be a temporary structure, to house an exhibition.
The hall is named after Simon de Montfort, the Earl of Leicester who was effectively King for a few months in the 13th century while he held his brother-in-law Henry III captive at Kenilworth. Simon was killed at the Battle of Evesham.
De Montfort Hall is on the edge of Victoria Park, and near the top of the sublime New Walk.
Many of the top performers in all spheres of music have performed at De Montfort Hall.