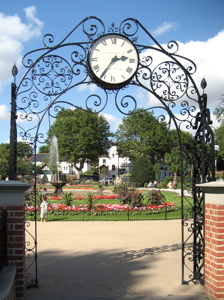 Today is an important annversary for me, as it is forty five years since I entered the world of entertainment, leisure, tourism and the arts!
These days, I am best known as a Blue Badge Guide, leading Guided Walks in and around Leicester, Leicestershire and Rutland, as well as in Essex and London, running Coach Trips to destinations all over the country and giving talks.
But I had a long and successful career managing cinemas and theatres.
On 2nd September 1963, I started work at the Odeon Gants Hill (in Ilford) as a Trainee Manager. I was just ten days short of my twenty first birthday.
I was soon promoted to Assistant Manager at the Odeon Barking, and to Manager at the Odeon Whalebone Lane (in Dagenham) in 1966, at which point I was the youngest cinema manager in the country.
The following years took me on a journey of hard work, long hours and great enjoyment, involving management in lots of places, including Southend (my home town); the West End of London; Leyton; Gravesend; Westcliff; Cosham; Loughborough; Ramsgate; Canterbury; Halstead; Havant; and a marketing position at Leicester.
I was one of the earliest managers of a twin cinema (at Westcliff), and of two different cinemas simultaneously (at Ramsgate). I invented the concept of cinemas having their own Carnival Queen (the Classic Queen at Westcliff). This was much copied in other areas, and I ran the same idea at Halstead and Havant.
I was the first cinema manager to write his own regular column for a newspaper (at Westcliff, and later on Hayling Island), and the first to have publicity material regularly available in another country (at Calais, for Ramsgate).
I organised security in cinemas on live shows, ensuring that audience members did not get to the stage and disrupt performances, working with such performers as the Beatles, Rolling Stones, Chuck Berry, Cliff Richard, John Gilpin, John Hanson etc.
I took part in a huge number of Carnival processions, and helped run Carnivals at Ramsgate and Hayling Island, where I compered the annual Carnival Queen contest.
I was one of the Patrons of the famous Broadstairs Folk Week, and ran festivals of rock films.
All in all, it was long and hard work but very enjoyable, and I met some very nice people. Certainly, the experience I gained over all those years has stood me in good stead as a Blue Badge Guide.
If by any chance you should remember me in one of my previous incarnations around the country, I would be very peased indeed to hear from you.
Posted by colin on Tuesday 2nd September, 2008 at 7:55am