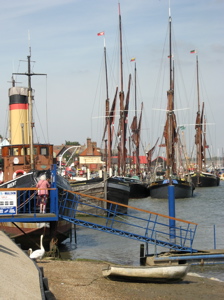 With visitors from the United States particularly in mind, I am pleased to announce the availability of a Coach Tour around the historic old Kingdom of Essex.
The early history of America is full of Essex connections, and this tour will highlight a good number of them.
From the probable site of the building of the "Mayflower" to where Governor Winthrop was married, and from George Washington's ancestors to the theologian Thomas Hooker, it's a day full of interest for those wanting to see their nation's roots.
I suggest that the best place to pick me up on your coach would be Shenfield Station.
The route goes through Billericay with a stop at Old Leigh, still famous for its cockles, then on to the tiny villages of Stambridge and Purleigh, and stopping at the ancient waterfront town of Maldon, scene of a celebrated battle way back in 991.
The last stop will be at the cathedral city of Chelmsford, whose history goes back to Roman times.
I will be very happy to discuss bookings for this tour. Give me a ring on 0116 - 2611576 or email me at colin@crosbyheritage.co.uk
Posted by colin on Wednesday 12th December, 2007 at 10:02am