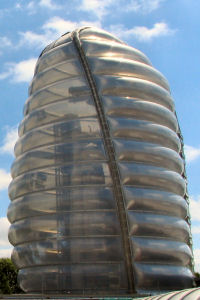 May I remind group travel organisers that when they visit Leicester, their enjoyment can be greatly enhanced by hiring a Blue Badge Guide, such as myself?
Leicester, right in the centre of England, is one of the oldest few towns in the country, and is also one of the largest few cities in the country. The Jewry Wall is the largest free standing civil structure from the Roman period to be still standing, and the Old Town has no fewer than five surviving mediaeval churches.
Thomas Cook`s very first excursion, heralding the birth of modern tourism, was from Leicester to Loughborough in 1841, and the National Space Centre, one of Britain`s major millennium projects, was opened in 2001.
Simon de Montfort, Earl of Leicester, is famed throughout the world as one of the founders of democracy. Richard III spent his last night in a bed in Leicester, and after his death in battle near Market Bosworth was buried in Leicester. Cardinal Wolsey died and was buried at Leicester Abbey. Lady Jane Grey, the nine days Queen, was from Bradgate House, just outside Leicester.
In more modern times Leicester has produced such famous names such as David Attenborough; Richard Attenborough; Gordon Banks; Kasabian; Gary Lineker; Joseph Merrick (the Elephant Man); Peter Shilton; Showaddywaddy; and Matt Smith (Dr. Who).
I will be delighted, as a Blue Badge Guide, to take you on a Guided Walk around Leicester, or to step on board your coach and take you on a tour around lovely Leicestershire.
Feel free to get in touch.
Posted by colin on Wednesday 8th June, 2011 at 8:29pm