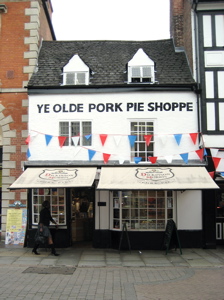 I recently guided a group from Ely on a tour around the tiny county of Rutland, starting at the Leicestershire market town of Melton Mowbray.
The group were from Ely Theatregoers, and they had booked the day, entitled "The Smallest County Tour", with Gill Wood of Group Days Out.
I met the group in Melton Mowbray once they had travelled up from Ely. They were then split into three smaller groups, each of which visited Ye Olde Pork Pie Shoppe for a demonstration of how the world famous hand raised Melton Mowbray pork pies are made.
Needless to say, there was an opportunity for purchasing pies, and a good number found their way back to Ely.
While not taking part in the demonstration, the others were able to partake of coffee at the George Hotel, a splendid former coaching inn.
Before rejoining the coach, I gave a talk about the significance of Melton Mowbray, with particular reference to the pork pies and also the Stilton cheese which is uniquely made in the district, and explaining the connection between the two.
I also spoke about the importance of foxhunting to the economic development of the town, not forgetting the Prince of Wales who met an American divorcee here, leading to far reaching consequences.
On the coach I gave a commentary as we drove through some very pretty villages in Rutland.
We made a stop at Barnsdale Gardens, which were set up by the much loved gardener the late Geoff Hamilton. Here, coffee and snacks were consumed, and the party enjoyed very much strolling around the gardens.
Then it was on to Whitwell for a trip on the "Rutland Belle", around the lovely Rutland Water.
On the way back to Melton Mowbray, I took the group on a tour of some more pretty Rutland villages, including a look at the rare Maze at Wing.
Everybody had a great day. My Visitors' Book has comments such as "excellent day out with Colin", "most enjoyable tour - Colin very knowledgeable and entertaining", "a truly most enjoyable day - most informative" and "thanks for a great day - I now know more than when I started - enjoyed the humour!"
And I made sure that everybody knows about my "Ely - City and Riverside" public Guided Walk on Saturday 4th August.
Posted by colin on Sunday 6th May, 2007 at 12:13pm