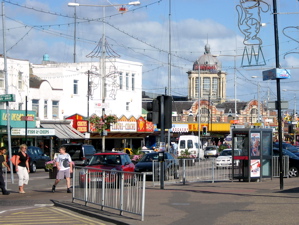 A very popular Coach Trip which I organised recently was to Southend, the lovely seaside resort in Essex. This is my home town, so it`s always nice for me to go back when I can.
After leaving St. Margarets Bus Station in Leicester, we travelled down the motorway to the outskirts of London, and stopped for coffee at the splendid Forty Hall at Enfield.
Then, skirting Epping Forest, we made our way down to the Southend area, travelling along the Seafront for a while after leaving the main road by Chalkwell Park.
As soon as the party left the coach, most were struck by the clean, fresh air, which no less a connoisseur than Sir John Betjeman described as being like wine.
I took the party up in the scenic lift to the Royal Hotel at the bottom of the busy High Street, from where there is a splendid view of Southend Pier, the longest in the world, and the Kent coast on the other side of the estuary of the River Thames.
My Guided Walk led them through the Cliff Town Conservation Area, including the lovely Prittlewell Square, down the West Cliffs and along the Seafront as far as the famous Kursaal, before retracing our steps to the Royal Hotel.
After that, some went to eat at one of the many restaurants, some went on the Pier and some had a look round the shopping centre.
On the way back, I diverted past Priory Park to Rochford, the delightful little town where I was born, and stopped for a few minutes to let people get a feel of the town.
We made a stop for coffee at Newport Pagnell Services.
Everybody had a great day, most having never previously visited Southend. I think many will come again if I repeat the trip.
My Visitors Book has such comments as "good day out", "a very informative and well organised trip", "a very nice day out at the seaside" and "now I understand what Colin is missing - Southend!"
Posted by colin on Monday 28th July, 2008 at 9:12am