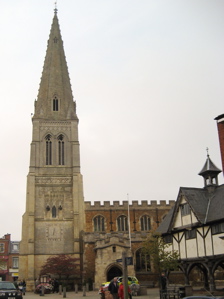 I had the honour to be the speaker at a recent meeting of the Community History Network run by Leicester City Council.
I have given talks to this group a couple of times before. Some years ago I gave a talk about Oakham, and more recently one of my Christmas talks, "Ding Dong Merrily on High", which looks at the background to everybody's favourite Christmas carols.
This time it was the first outing for a new talk entitled "Dionysius, Hardulph and Egelwin: the church dedications of Leicestershire and Rutland".
I went through all the saints to whom churches in the two counties are dedicated, and said a few words about each of them.
The original premise was that everybody knows who the best known saints (St. Mary, St. Peter, St. John etc) were - although that is not necessarily the case today. But there are some much more obscure saints who need some explanation.
St. Dionysius (at Market Harborough) is the same chap as St. Denys, executed for his faith at Montmartre, the hill of the martyrs, in Paris. Legend says that after his beheading, he obligingly carried his head to his grave.
St. Hardulph (at Breedon-on-the-Hill, where the dedication is St. Mary and St. Hardulph) lived as a hermit in a nearby cave by the River Trent. This is the only church with this dedication.
St. Egelwin (at Scalford) is another unique dedication. A member of the Royal family of Sussex, he found his way to the Midlands and led a peaceful God-fearing life. He is buried in the churchyard.
The Community History Network meets at New Walk Centre on alternate months. Anybody with an interest in local history is welcome to attend.
Posted by colin on Tuesday 13th November, 2007 at 9:08am