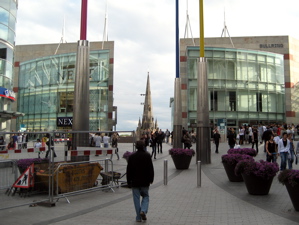 From time to time, the National Exhibition Centre (NEC) at Birmingham plays host to an antiques show named Antiques for Everyone.
I visit this show when I can, and on a recent occasion my wife Anne came with me.
It`s always nice to be surrounded by beautiful things, especially paintings, and I enjoy seeing them, and seeing where the exhibitors are from - a large number are from the Cotswolds.
On the way back from the NEC we stopped in Birmingham City Centre. We had a coffee in the excellent tea shop attached to St. Martin`s Church, and admired the indoor markets.
Posted by colin on Friday 20th August, 2010 at 8:44am