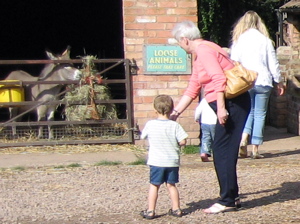 Every year Stonehurst Farm in the Leicestershire village of Mountsorrel organises a Victorian Christmas Weekend.
This year this very popular event takes place on Saturday 10th and Sunday 11th December.
Stonehurst Farm, with its many cuddly animals, is a marvellous attraction all through the year, and is particularly popular among families with young children, and for birthday parties.
The Victorian Christmas Weekend involves, as well as the usual animals, Christmas craft and gift stalls, a roast chestnut stand, a Salvation Army band and a Nativity Scene with real animals.
You can buy or order the farm's own sausages and beefburgers, Turkeys, Christmas trees and holly wreaths.
And of course Father Christmas himself will be there.
Mountsorrel lies on the old A6 road, midway between Leicester and Loughborough.
The following week, on Sunday 18th December, my Guided Walk "The Holly and the Ivy", looking at the background to Christmas customs, starts at the farm.
Posted by colin on Saturday 3rd December, 2005 at 7:43am