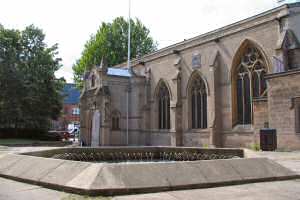 At a service at Leicester Cathedral yesterday, my wife Anne and several others were licensed as readers in the Diocese of Leicester.
Anne has been studying intensely to be a reader for the last three years, and it is great that that she has achieved this. But as she rightly says, this is not the end, it's the start of a new phase in her spiritual journey.
A reader is licensed to preach within the diocese, and to perform a number of the functions normally associated with the clergy.
She remains at present within the Parish of the Resurrection, which includes St. Peters Church, Belgrave, St. Gabriel's Church Belgrave, St. Alban's Church Belgrave and St. Matthew's House. She has been Churchwarden in this parish for a number of years.
After the service yesterday, at which Bishop Tim officiated, a group of family, clergy and friends had a meal at the excellent Flame restaurant in Granby Street.
Those present included our son Neil and his fiancee Becca, from Bedford, our son Kevin and his partner Laura, from Sheffield and our son Robin, who still lives with us. Unfortunately our daughter Gillian and her partner Austin were unable to get here from Folkestone.
Both parts of the day - service and meal - went very well, and the weather was kind.
Anne's husband is very proud of her.
Posted by colin on Sunday 14th October, 2007 at 10:59am