Uppingham School (Uppingham)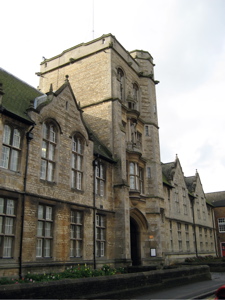 Uppingham School, a public school with a first class reputation, is situated in the charming Rutland market town of Uppingham. Its playing fields are amongst the largest in England, and the school runs a theatre and a bookshop in the town.
It was founded in 1584 by Archdeacon Robert Johnson, who also founded nearby Oakham School in the same year.
The original school building still stands, in the churchyard of St. Peter and St. Paul Church, the same arrangement as at Oakham.
Uppingham School came to national prominence with the appointment of the great educationalist Edward Thring as headmaster in 1853.
Among Uppingham's old boys are Jonathan Agnew, the BBC's cricket correspondent; Donald Campbell, of "Bluebird" fame; Malcolm Campbell, also of "Bluebird" fame; Stephen Dorrell, Conservative politician; James Elroy Flecker, poet; Stephen Fry, actor and screenwriter; Cecil Sharp, folk song collector; Rick Stein, TV chef; David Suchet, actor best known as Hercule Poirot; John Suchet, TV newsreader; Johnny Vaughan, TV presenter; and James Whitaker, England cricketer.
But better known than any of these was William Pratt, an actor who went to Hollywood and changed his name to Boris Karloff.