Frank Whittle Statue (Rugby)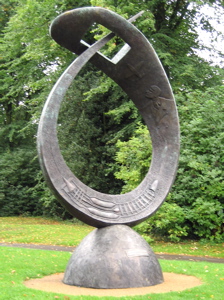 The Frank Whittle Statue stands in the pleasant Warwickshire market town of Rugby.
It is opposite Rugby's main public park, around the corner from the Rupert Brooke Statue, in a particularly leafy part of town.
Frank Whittle did much of his research and development of the jet engine in Rugby, and also at nearby Lutterworth in Leicestershire, where he is also commemorated.
In fact, the statue is not really a statue in the conventional sense, in that it is not a lifelike depiction of the man himself. Rather, the sculptor, Stephen Broadbent, drew together various aspects of Whittle's life and vision to create a fascinating piece of contemporary public art.