Rupert Brooke Statue (Rugby)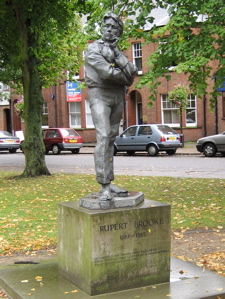 The Rupert Brooke Statue is a feature of his home town, Rugby in Warwickshire.
Rupert Brooke, one of the best loved of English poets of the 20th century, was the son of a housemaster at Rugby School and born in the town in 1887.
He went away to the Great War, but caught an illness and died in 1915 on a Greek island, where he is buried.
It was Rupert Brooke who, in "The Soldier", wrote "If I should die, think only this of me, that there's some corner of a foreign field that is forever England".
And in "The Old Vicarage, Grantchester", he penned the evocative final couplet "Oh, stands the church clock at ten to three? And is there honey still for tea?"
The Rupert Brooke Statue can be found in the leafy Jubilee Gardens. It was sculpted by Ivor Roberts Jones.