Quorn Cross (Quorn)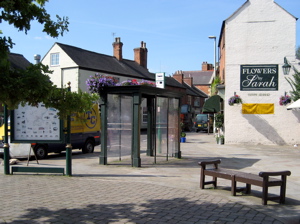 Quorn Cross is actually a crossroads in the centre of the old village of Quorn.
It is situated where Leicester Road becomes the High Street, and on the corner of Station Road, opposite Meeting Street.
There is a wide expanse of pavement here, with an information board and flower displays. The bus shelter is also here.
Leicester Road and the High Street were formerly the main A6 road, until a Quorn and Mountsorrel bypass was opened in the 1990s. The old road had been the main road, in the narrow gap between the hills of Charnwood Forest and the River Soar, from London to the East Midlands, for centuries.
Diagonally opposite is a small garden beside the Buddon Brook, which flows into the Soar. The garden contains Quorn's War Memorial.
Quorn is best-known for the Quorn Hunt, established by Hugo Meynell of Quorn Hall in the 18th century.
The old A6 leads Southward to Mountsorrel and Leicester, and Northward to Loughborough and Derby.