Leicester Station (Leicester)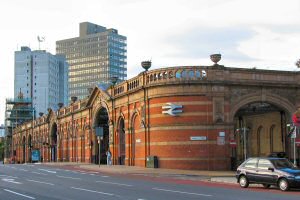 Leicester Station is the second on this site.
The first station in Leicester serving this line, originally the Midland Counties Railway, was Campbell Street, built by William Parsons in 1840.
This, however, proved eventually to be inadequate, so a new station was designed by Charles Trubshaw and opened in 1894.
Leicester Station (widely known to local people as London Road) is built of brick, with a clock turret at the corner closest to the City Centre. It has "Arrival" In and Out, and "Departure" In and Out arches.
It was from Campbell Street that Thomas Cook's first excursion, to Loughborough, set out in 1841, heralding the dawn of mass tourism. The Thomas Cook Statue stands just outside the station.
Leicester is linked by rail with such places as Bedford; Birmingham; Cambridge; Derby; Ely; Hinckley; Kettering; Lincoln; London (St. Pancras); Loughborough; Luton; Market Harborough; Newark; Nottingham; Oakham; Peterborough; St. Albans; Sheffield; Stamford; and Stanted Airport.