Duke of Rutland Statue (Leicester)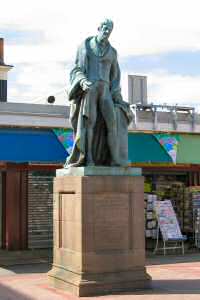 The Duke of Rutland statue can found in Leicester Market, in front of the Corn Exchange.
The statue is of John Henry Manners, the 5th Duke of Rutland, and was unveiled in 1852 to celebrate his 50th anniversary as Lord Lieutenant of the county. It was the first public statue ever to be erected in Leicester. The Duke was well respected in Leicester, giving money to deserving local charities and supporting the Leicester Royal Infirmary in its early days. He was also a trustee of the British Museum.
The seat of the Dukes of Rutland is Belvoir Castle, in a spectacular hilltop position overlooking the Vale of Belvoir in North East Leicestershire, near Grantham. There has been a castle here since the Norman Conquest, but the present one was built by James Wyatt in 1816.
It was this Duke who employed Wyatt to rebuild Belvoir Castle.
Over the years, many have remarked on the strange expression on the Duke's face. "The Builder", a trade newspaper, remarked at the time that "His Grace is made to appear positively intoxicated".
Where is Duke of Rutland Statue?
View a map showing the location of Duke of Rutland Statue.
Press the 'Back' button on your web browser to return here.