Clock Tower outside Welford Road Cemetery (Leicester)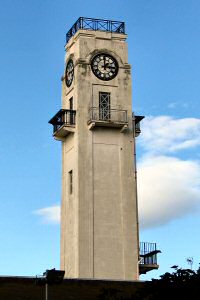 The Clock Tower outside Welford Road Cemetery in Leicester is a remnant of the old Cattle Market.
The Cattle Market had been moved from what is now Town Hall Square in the late 19th century, when it was decided that Leicester needed a new Town Hall, as the ancient Guildhall was no longer big enough.
It was a very busy one, and even warranted a railway station on the main line from London.
In the 1990s, the remaining buildings of the Cattle Market, except the attractive Clock Tower, were removed, and a retail and entertainment centre, known as Freeman's Park, constructed in its place.
Across the road in the cemetery are buried many of Leicester's most prominent citizens, including the tourism pioneer Thomas Cook.