Clock Tower (Coalville)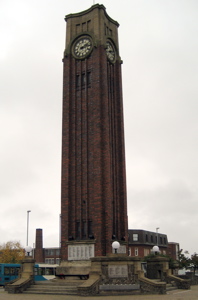 The Clock Tower is an unmissable landmark in the Leicestershire town of Coalville.
It stands in the centre of the town, with formerly traffic on all sides. One side, though, has now been pedestrianised, making access much easier.
The tower was built in 1926, and designed by Henry Collings. It is very tall, and built largely of brick, with a stone top.
The accurate clock is controlled by radio.
Around the base of the Clock Tower are the town's War Memorials.
Clock Tower (Coalville) is the starting point for...