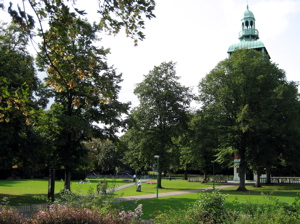 "Places of Interest in Leicestershire" is the title of a talk which I gave recently for the Adult Education Centre in Leicester.
The Adult Education Centre run a series of courses throughout the year for people who are approaching retirement age. The courses involve matters to do with health, insurance, benefits etc.
My part of the proceedings is to give this talk, to show that there are plenty of interesting places to go locally, without having to travel far.
I talk about interesting market towns, walks in the country, and some of the lovely parks in the area, particularly Abbey Park in Leicester and Queens Park in Loughborough.
Then there are steam railways (the Great Central and also the Battlefield Line near Market Bosworth), museums, farms, garden centres,and a wide range of other attractions that don't need to cost the earth.
If you are yourself getting near to retirement, you might like to get your employer to register you on the course.
And of course this talk is available to any group.
Posted by colin on Sunday 3rd December, 2006 at 10:07am