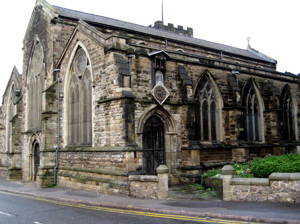 I recently led a private Guided Walk in Leicester which included a visit to the historic All Saints Church.
It was a version of my "All Saints" Guided Walk, which I lead as a public walk on an annual basis.
This was for Roslyn Alan and her family from Australia, who were visiting from Australia and had family links with the church.
All Saints is the only one of the five mediaeval churches in Leicester`s Old Town which is no longer used for regular worship. It is possible, however, for me to take visitors into the church.
If you would like me to lead the "All Saints" Guided Walk, including the visit to the church, for your own group, do get in touch.
Posted by colin on Friday 6th January, 2012 at 10:10am