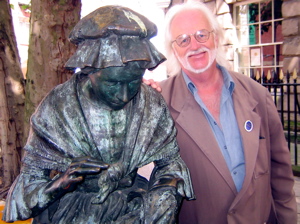 On Wednesday 3rd February I reached an important landmark in my career as a Blue Badge Guide. On that evening, I led a group of people for the two thousandth time.
I qualified for the coveted Blue Badge in 1984, and started leading Guided Walks around the historic city of Leicester straight away.
The best part of the two thousand occasions have been in and around Leicestershire and Rutland, but some have been in Essex, where I come from, and some in London, where I worked in previous lives. There have also been a significant number of Coach Trips to destinations all around the country, as well as some bits and pieces like open top buses and canal boats.
The figure does not include the talks I give for groups in church halls etc on various subjects, mostly connected with Local History. There would be a three figure number for this activity.
The two thousandth occasion was the very popular Ghost Walk entitled "Haunted Leicester", which I lead several times a year.
Thanks to all the people who have come on walks, or excursions, or talks. Most of you seem to have enjoyed it!
Posted by colin on Monday 8th February, 2010 at 8:56am