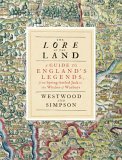 A recently published book called "The Lore of the Land" will be an indispensable reference work for anybody interested in the folklore of England.
Subtitled "A Guide to England's Legends", it is compiled by Jennifer Westwood and Jacqueline Simpson, and is a county by county round up of fascinating legends and traditions.
Each county has an alphabetical list of towns and villages, with details of the folklore relevant to each place.
There are also articles on interesting subjects, such as Dick Turpin, Hill Figures, Sunken Churches, Bells, Dragons and Spring Heeled Jack.
Entries for Essex include Canewdon (notorious for centuries for its witches); Coggeshall (where silly actions earned the title "Coggeshall Job"; Colchester (and the legend of Old King Cole); Hadleigh (home of the feared Cunning Murrell); and St. Osyth (where the martyred saint carried her head to her burial place).
Leicestershire entries include Breedon-on-the-Hill (where brides pass under a griffin skin); Dane Hills (home of the terrifying Black Annis); Hinckley (where Richard Smith's gravestone bleeds on the anniversary of his murder); Leicester (and the legend of King Lear); and Lutterworth (where a healing spring flows from where John Wycliffe's bones were dropped).
Under Rutland we can read about Belvoir (where the Flower sisters were condemned for murder by witchcraft); Oakham (where the castle has a unique collection of giant horseshoes); Ryhall (home of the cousins St. Tibba and St. Ebba); Uppingham (and the story of Tod's Piece); and Wing (with its famous turf maze).
"The Lore of the Land" can be found at all good bookshops.
Posted by colin on Monday 9th January, 2006 at 9:14am