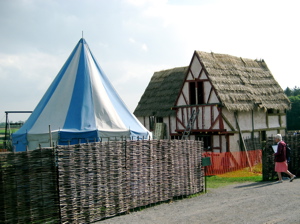 A recent Coach Trip that I devised and led was the "Richard III Tour".
One of the morning trips that leave from St. Margarets Bus Station in Leicester, it followed as closely as possible the route that this tragic and much maligned king took from Leicester to the battlefield where he was killed.
Richard spent his last night in a bed at the White Boar Inn at Leicester, before meeting the invader Henry Tudor at the Battle of Bosworth, just outside the charming little town of Market Bosworth. His body was brought back to Leicester and buried at the Grey Friars.
The Coach Trip complements a Guided Walk which I lead in Leicester, which is simply entitled "Richard III".
During these morning trips, I always stop somewhere interesting, where coffee, tea, cakes etc can be purchased. Appropriately, the stop on this occasion was at the Bosworth Battlefield Visitor Centre.
Posted by colin on Wednesday 15th November, 2006 at 9:24am