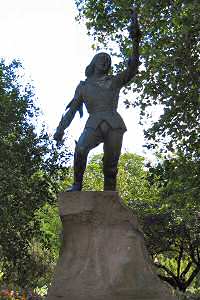 I gave a talk on local folklore recently at Market Bosworth.
It was my talk "Leicestershire Legends and Traditions", which I had been invited to deliver to the Market Bosworth Society.
The venue was the little Bardon Road Chapel on the edge of the town.
I spoke about traditions such as the Bottle Kicking and Hare Pie Scramble at Hallaton and the Whipping Toms in the Newarke.
Also featured were stories about such persons as King Lear, John of Gaunt, Richard III and the terrifying Black Annis.
I will be happy to give this fascinating talk to your own group.
Posted by colin on Wednesday 17th September, 2014 at 4:46pm